The images and text used on this and all other USM web pages are the copyrighted property
of USM Inc. Those images and the text may be used by others ONLY AFTER completion
of a formal international licensing agreement and payment of a licensing fee!
This 1926 Reichsparteitag badge copy is offered for sale
for $25.00 delivered worldwide by 1st Class Mail.

• IF you prefer Priority Mail shipping with USPS delivery confirmation add $6.45.
• IF you wish to purchase highly recommended, but optional insurance, add $1.95.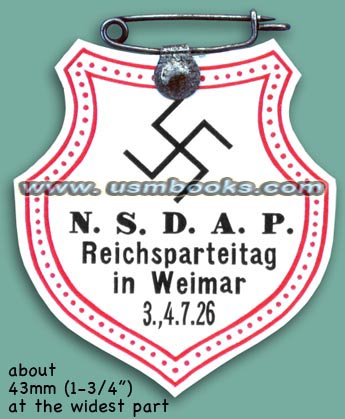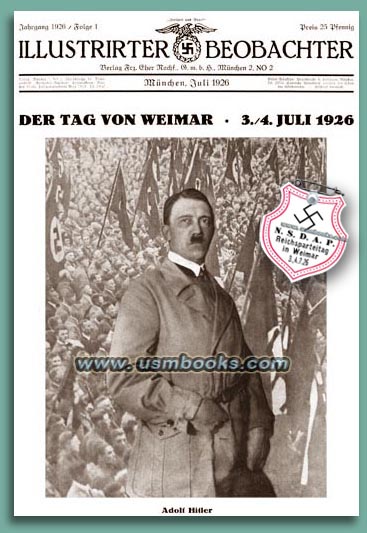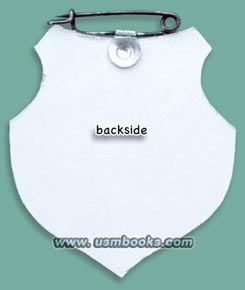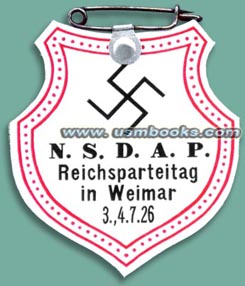 Greatly emboldened by their electoral and street battle successes in the wake of Hitler's release from Landsberg prison and the publication of his book
Mein Kampf
, a grand Reichs Party Day was planned and held in the city of Weimar on the 3rd and 4th of July 1926. An interesting historic detail is that it was during this
Reichsparteitag
, that the
Hitler Youth
was founded and designated as the official National Socialist Youth Movement.
Participants of the 1926 Nazi Party Days took home a chipboard badge (or 'tinnie') only 2 inches tall that quickly became a sign of unalterable commitment to Hitler and Nazism. Because the badges were made of thick paper, few have survived into the 21st century. Originals of this Nazi tinnie sell for hundreds of dollars.
We usually do not buy or sell copies (and when we do we carefully identify them) but we recently acquired a small quantity of excellent copies of the 1926 badge, perfect in detail right down to the size and the thickness of the material used, the pin at the top, and the attachment that holds the pin to the top. The badges consist of a white shield with a red dotted border and a large black swastika above the words:
N.S.D.A.P.
Reichsparteitag
in Weimar 3.,4 .7.26
Virtually every Reichsparteitag and/or tinnie collector needs an example of this badge, and for many this may be the only possible way to fill a space in an otherwise nice collection!

If you see these on other websites for a lot more money, they probably got them from us! We know of no others available anywhere!


RARE 1926 REICHSPARTEITAG BADGE FACSIMILE
THE ONLY FAITHFUL COPY OF THE EXTREMELY RARE 1926 WEIMAR REICHSPARTEITAG PARTICIPATION BADGE
This USMBOOKS web page is Copyright © 2016 by USM, Inc., and the text and images on it are fully protected by international copyright law. It is therefore, illegal for anyone to take any of the material found here and use it for their own purposes without our written permission, irrespective of any excuse they may feel they have for doing so.